Baci® Perugina®
Cuoricino Elegance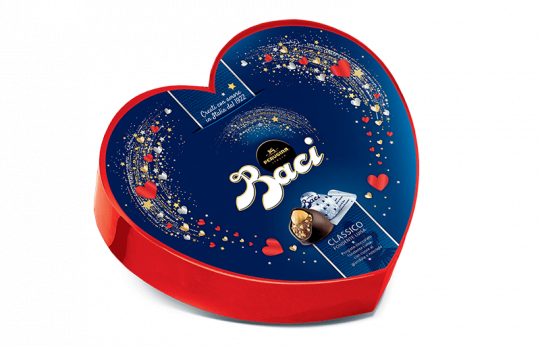 Baci® Perugina® Cuoricino Elegance, a small way to express all your love. A little box that will say so much to the person who receives it, and which contains inside it the incomparable dark chocolate Luisa®. A small masterpiece that holds a message of love and affection.

Discover all the products of the Baci® Perugina® Valentine's Day Collection for a wealth of gift ideas.
Dark chocolate praline with hazelnuts.

Ingredients: sugar, HAZELNUTS 26%, cocoa paste*, cocoa butter*, anhydrous BUTTER, powdered MILK, sunflower lecithin emulsifier, natural vanila flavouring. MAY CONTAIN OTHER NUT PRODUCTS.

GLUTEN FREE.
Store in a cool dry place.

* Rainforest Alliance certified. For more information, go to ra.org

Important: small children (under age four) have a limited chewing ability and could choke on small-sized foods.
NUTRITIONAL DECLARATION PER 100 G
Energy
2353 kJ / 566 kcal
Fat
of which saturates
37,9 g
14,1 g
Carbohydrate
of which sugars
44,7 g
41,9 g
Fibre
6,6 g
Protein
7,1 g
Salt
0,03 g