Baci® Perugina®
Dark 70% Cuore Elegance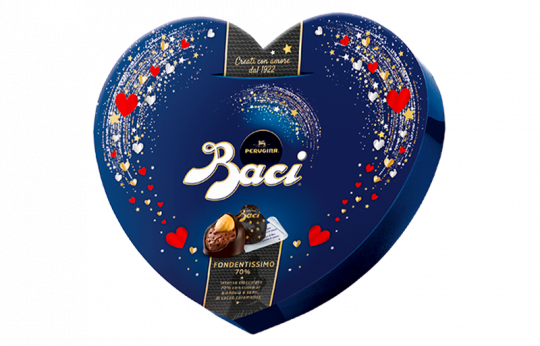 An elegant heart-shaped box for lovers of dark chocolate: a gift that says taste and sophistication. Baci® Perugina® Dark 70% Cuore Elegance will be that special gift for wishing "Happy Valentine's Day" to the one you love.

Discover all the products of the Baci® Perugina® Valentine's Day Collection for a wealth of gift ideas.
Extra dark chocolate pralines with hazelnut and caramelized cocoa nib filling

Ingredients: cocoa paste*, sugar, HAZELNUTS 18 %, caramelized cocoa nibs 7 % (cocoa nibs, sugar, anhydrous BUTTER), cocoa butter*, anhydrous BUTTER, powdered MILK, emulsifier (sunflower lecithin), natural vanilla flavouring. Cocoa: 70% minimum in the dark chocolate. MAY CONTAIN OTHER NUT PRODUCTS

GLUTEN FREE.
For best preservation of this product, we recommend storing in a dry place at a temperature below 18°C.

* Rainforest Alliance certified. For more information, go to ra.org

Important: small children (under age four) have a limited chewing ability and could choke on small-sized foods.
NUTRITIONAL DECLARATION PER 100 G
Energy
2370 kJ / 570 kcal
Fat
of which saturates
40 g
18 g
Carbohydrate
of which sugars
39 g
35 g
Fibre
8,8 g
Protein
7,6 g
Salt
0,03 g