Ideas to make your Christmas special with Baci® Perugina®
Discover ways to make your house even more festive during the holiday season
The most wonderful time of the year is upon us. Christmas wish lists have been constructed and present requests have been put in by those who love the season and receiving gifts but sometimes you don't really know what to get certain people or you want to give their Christmas gift a cherry on top. Here are our gift suggestions to spark excitement and make Christmas unique.
A SPECIAL GIFT
For the ones in your family who love luxurious things, treat them to an elegant box of Baci® Perugina® chocolates. Wrap it up and leave it nameless, a mysterious gift to be unwrapped by the family and to be shared between everyone. Find out more about the Baci® Perugina® Original Dark Box.
TO MAKE YOUR HOLIDAYS SPARKLE
If you are hosting a gathering over the holidays, fill a crystal bowl with Baci® Perugina® chocolates and position it well in your living room to give a warm welcome to your guests. Discover more about the Baci® Perugina® Original Dark product range.
TO NEVER FORGET
Give a little thank you to your colleagues and bring in a bag of Baci® Perugina® on your last day before Christmas. Discover the different flavours and choose yours.
SURPRISE WITH BACI® PERUGINA®
Add the Baci® Perugina® tubes to everyone's stocking. A little sweet addition to open up and devour on Christmas morning. Check out all the available packs.
FOR A SWEET ENDING
Every Christmas dinner ends in a family game night. Accompany the fun with tea or mulled wine and extra dark Baci® Perugina® chocolates. Finish the night on a warm note.
Baci® Perugina®can also be used to decorate your house during the festive period with a unexpected sweet touch. Whether it be an ornament on the tree or an addition to your table setting, we're sharing some hidden ways to surprise people you love in a unique way.
AN ORIGINAL TREE
Create ornaments for your Christmas tree by simply gluing the chocolates onto bows or cardboard stars to tie to your tree.
SWEET PLACE CARDS
Now you've got the tree looking pretty, why not hide a something sweet for later in your place settings. Fold your napkins how you've like and place your Baci® Perugina® chocolate within it. Why not try origami made with colour coordinated napkins for the Baci® chocolate flavour?
THE FESTIVE TABLE
If you do not have an artistic flare, just add them to your table decor around the centrepiece allowing guests to take as they please.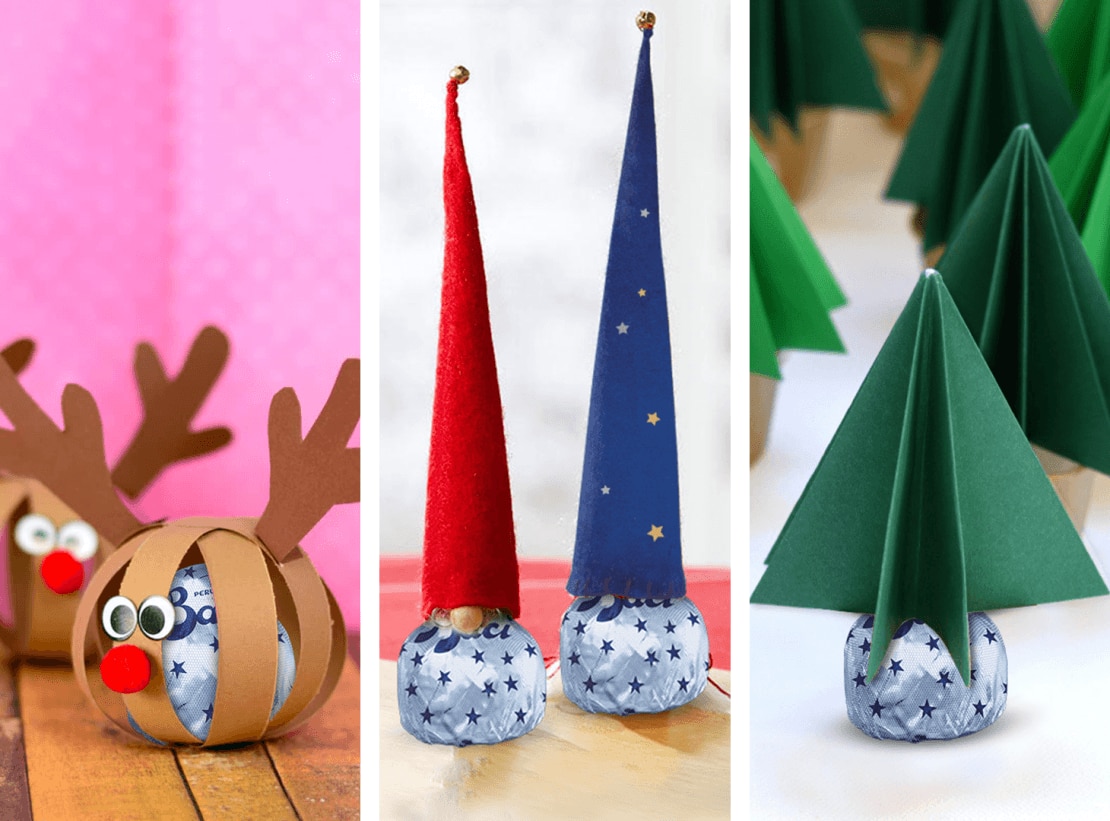 THREE IDEAS FOR CHRISTMAS WITH KIDS
A few other decoration ideas which are especially fun to make with kids. Make a reindeer with a few pieces of brown card, eyes and something red for the nose. Add this festive addition to the table to bring the magic of Christmas for the little ones.

With some blue and red fabric, you can create and decorate little hats for the Baci® Perugina® chocolates to create gnome look-alike knick-knacks. You can even use them as place setting for each guest around the table.

Make little Christmas trees with green card folded to create pleats that resemble a tree. Simply add it on top of a Baci® Perugina® and your little decoration is done.