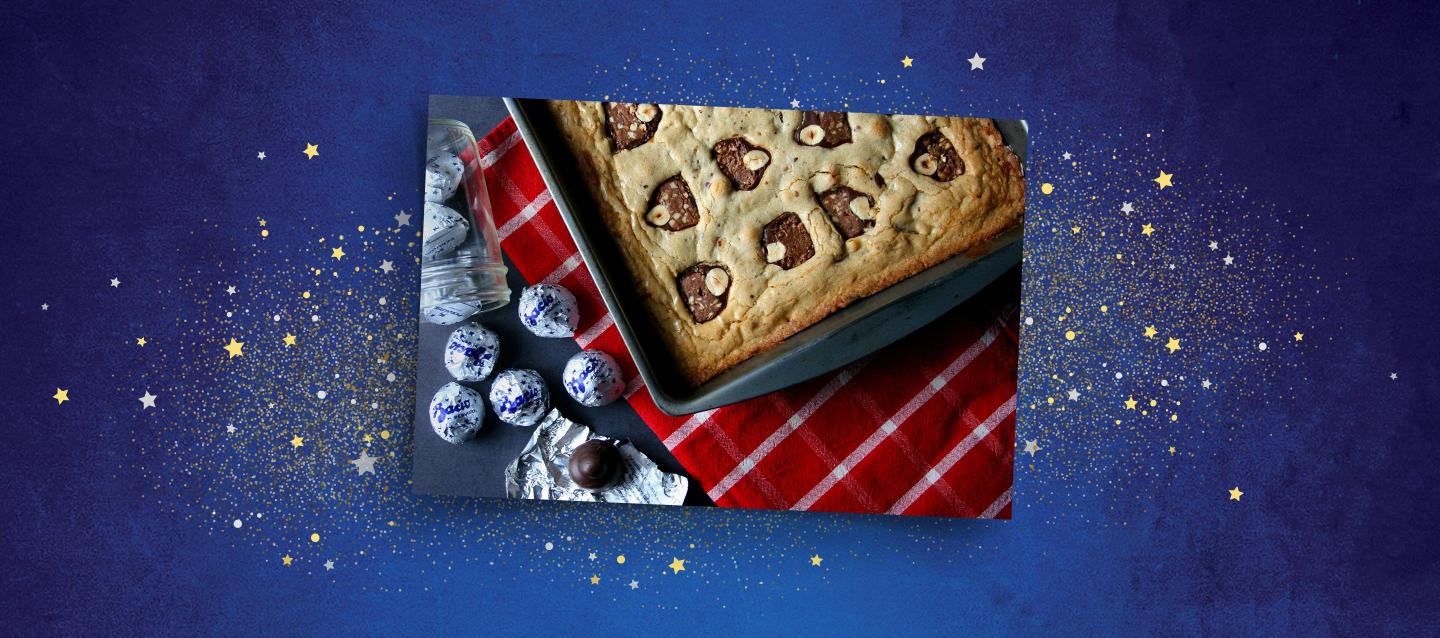 Ingredients
1 1/2 cups flour
1/2 teaspoon salt
3/4 cup (1 1/2 sticks) butter, softened
1 1/3 cups packed light brown sugar
2 eggs
1 1/2 teaspoons vanilla extract
1 Bar Perugina® Dark Chocolate (5.2 ounces), coarsely chopped
6 Baci® Perugina® Classic Dark, cut in half
Preheat the oven to 350°F.
 
Generously grease the bottom and sides of a 9-inch baking sheet. Line the bottom of the pan with parchment paper, then grease the paper.
 
In a medium bowl, sift together the flour and salt. Set to the side.
 
In the bowl of a stand mixer, cream the butter and brown sugar until fluffy (2-3 minutes on medium speed). Add the eggs, one at a time, mixing after each addition. Stir in the vanilla extract.
 
Remove the bowl from the mixer, and stir the flour mixture in by hand. Fold in the chopped Baci® Bar, stirring until it is evenly distributed.
 
Spread the thick mixture in your prepared pan. Press the Baci® halves, cut side facing up, into the top of the mixture, either in rows or free-form. Bake for 30-35 minutes, rotating the pan at the 15 minute mark, or until golden and just set in the center.
 
Let the blondies cool in the pan, set on a wire rack, until room temperature. Slice into bars to serve.